Let's start by identifying the different types and versions of the SI board. Through the entire E30 generation, there are four versions of the board.
1982-1986 early model board with NiCd batteries
1982-1986 early model board with Lithium batteries
1986-1992 late model board with NiCd batteries
1986-1992 late model board with Lithium batteries.
Here are some picture examples:
Yes, but how do I know which SI board that I have?


The SI boards design allows it to power and control signal for the following gauges:
Tachometer
Econometer
Temperature Gauge
Service Interval LED display and calculations
OBC (On Board Computer) Calculations
Should you experience any non-operation or intermittent operation of any of these gauges, not necessary at the same time, then you should suspect dying SI board batteries if they have not been changed before.
Keep in mind, BavRest recommends that you always check instrument cluster fusing prior to any troubleshooting. The fusing for the E30 cluster is fuses 10, 12, and 21, all of which are 7.5A, brown standard blade fuse.
Additional causes of SI board failure are physical damage to the inside corners of the board. Please see pictures below:
This damaged was caused by using the incorrect screws to mount your instrument cluster trim pieces back on!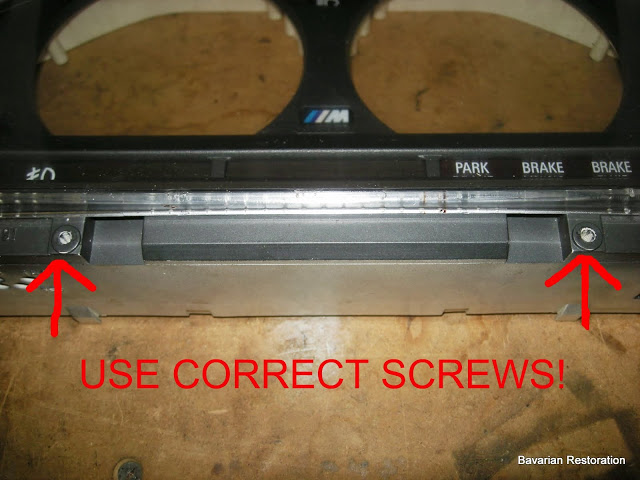 BavRest recommends using the OEM screws for this particular portion of the cluster to prevent damage to your SI board.
We at BavRest are fully capable of repairing damage causing by incorrect screws penetrating into the SI board and perform these repairs quite often.
However, aside from dead batteries and physical damage, the SI board can acquire non visible damage. Electrical shorts in the vehicle wiring can cause reverse voltage to enter the SI board, damaging obsolete semiconductors and transistors. These parts are long discontinued and severely obsolete. When this damage occurs, we cannot repair the SI board and offer a refund of your money minus a small labor fee for attempting the repair.
Testing the SI board batteries:
The BMW SI board comes with two battery types:
NiCd batteries - AA in size, 1.25 volts DC each, 600mAh. Estimated life is 8-10 years.
Lithium batteries - approx. half AA size, 3.25V DC each, 850 mah. Estimated life is 15-20 years.
There are two tests for determining your batteries condition using a digital multimeter.
Test #1 is with DC volts setting, test #2 is with DC amps setting.
Voltage tests. NiCd batteries should read around 1.25V when new and/or in healthy condition. Lithium batteries should read around 3.25V when new and/or in healthy condition.
Current draw test. This is the definitive test for batteries. Note: batteries must be REMOVED from circuit before attempting this test! Current draw for new NiCd batteries is approx. 600mA and slowly dropping. Current draw for new Lithium batteries is approx 850mA and slowly dropping. Current draw of less than 100mA for either battery should be considered near death.
So what process does BavRest use to refurbish their SI boards?
The batteries are held in place by hot glue and six solder joints. All six solder joints are removed and batteries removed from board and replaced with OEM equivalent or better.
Many SI boards come with a protective substrate coating from the factory. This coating is to protect the copper traces from oxidation and physical damage. Many of our competitors remove this coating from the entire board when they rebuild. However, we at BavRest retain this coating while at the same time replacing all the require components and performing repairs.
There are four primary power capacitors that are changed during our refurbishment process.
There are 12-15 transistos and voltage regulators that are replaced during restoration. Ever smack your dash to get your temp or tach or MPG to work correctly? That's these transistors getting stuck from old age.
Any physical damage to the board or components is repaired using US Military grade techniques. Each repair is bridged with high quality wire and finished with high grade epoxy.
Once all repairs are made, we install the SI board into our instrument cluster test bench. We test all functions of the SI board to ensure it works 100% when our customers receive it.
Finally, once tested, a quality control sticker is applied to the board and it is packaged for shipment.
Should you have any other technical questions related to SI boards, please comment or send us an email at the link in our website banner.